How to Store Hijabs ~ 10 Ways
I am personally the laziest hijab storer of all time (hence why I love J.Veil's no fuss Viscose Ripple and Cotton hijabs). However, I will tell you of a few different ways to best store your hijabs to maintain that beautiful quality for long term use!
1) The Komplement Multi Use Hanger 
This hanger works wonders for all different hijab fabrics especially our, Modal, Cotton and Viscose Ripple Collection that tend to be bulkier when folded. You can store 18 hijabs in this hanger and slip it away into your closet discretely. One of the things I love best about this hanger is how easy it is to use. Because I am lazy, I like the fastest way possible, all you really need to do is loop your hijab through the holes and you're good to go. You're welcome. 
2) Multi Layer Pant Hanger 
Fold your hijabs the long way as many times as you want to get your desired width and then fold them in half and hang them over each rail. These are great because you can stack and pack your hijabs onto these hangers and they visually still look clean and put together for all you lovers of organization. Super easy, just sometimes slightly more folding needed depending on how you hang them. 
3) Over the Door Shoe Organizer 
These are amazing! I find the best way to store your hijabs in these is to fold the hjab long way in thirds and then roll the hijab all the way down. Then just place the hijab in the pocket and you're set! By rolling your hijabs you're decreasing the amount of wrinkles you are creating and therefore less ironing for you to do. Of course, if you buy J.Veil's Viscose Ripple or Cotton collections you never have to worry about wrinkles or ironing anyways. However with other woven fabrics such as Modal, rolling will be your best friend. 
4) Over the Door Shoe Rack 
A little more expensive than our other shoe rack option, however also very handy. Fold your hijab in thirds (or more) and then in half and drape each hijab over the front rail and tuck them behind the rails below them. That way you see each hijab but its not overflowing with fabric and everything looks neat and tidy. You can also choose to loop the scarves around the rack to avoid as much folding. These racks can hold a massive amount of hijabs so they are a great little investment. 
5) Small Sock Drawer Dividers 
This is the type of stuff that gives me joy. I love seeing a neatly separated drawer with different hijabs in each compartment in little rolls. Just roll your hijabs and place them into their designated compartment and you've got a beautifully organized hijab collection. 
6) DIY Shower Curtain Hanger 
Take a set of shower curtain rings and place them onto a hanger. Then loop your hijabs through these rings. Both easy and cheap, the perfect combination right? 
7) Hanging Closet Organizers 
These can be used if you don't have shelves in your closet. For both, simply fold each hijab and stack it on top of each other so you can see each hijab clearly. This often works better with woven hijabs like viscose, modal, jersey and cotton, rather than your satin and chiffon. 
8) Scarf Hanger 
Not the most original, but your good ol' scarf hanger or. Very similar to the pant hanger but with this one, I like that the hijabs are separated down the middle, creating a little more organization. However, they don't hold as many hijabs as the pant hanger, but still do their job well, hence the name.  
9) The Basket 
I enjoy baskets, especially to keep everything organized on shelves so it can also easily be used to store your hijabs. The best way, I believe is to roll your hijabs and have each one sticking out as seen below so it is easier to see each hijab as you're getting dressed.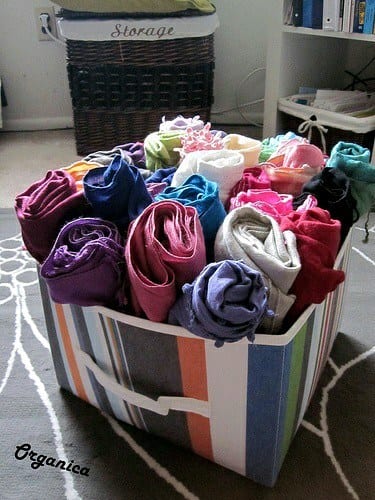 10) Decor Ladder
Last but definitely the cutest, hang your hijabs on a ladder in your room. 
Hopefully these storage tips gave you some hijab organization inspo! But if you're really the type of girl to roll your hijabs up and throw them in a ball no matter how many times you've tried the organizing method, you definitely should look into our no fuss, no ironing, Cotton and Viscose Ripple hijabs;) 
Here at J.Veil we believe in supporting community and our Ummah. Therefore we are proud to let you know that a portion of our profits go towards Islamic Relief's Orphan Sponsorship Program. 
J.Veil also runs a monthly hijab giveaway contest! Just tag your picture to @jveilco wearing a J.Veil hijab. Follow our instagram and facebook page for our monthly winner announcement.
This is Jessica Ross, the founder and CEO of J.Veil. As a thank you for reading our blogs, here is a 20% Off discount code to use at checkout.
Discount Code: "Blog20"
---